This week in the library, I am going to be introducing a new online reading app called SORA. 
Students will be able to access SORA, an online reading app, at home, school, anywhere. SORA has Ebooks and audiobooks for kindergarten, 1-6 grades and middle school students. Everyone gets to enjoy it!
Students have the opportunity to access all of the Battle of the Books, and many other books!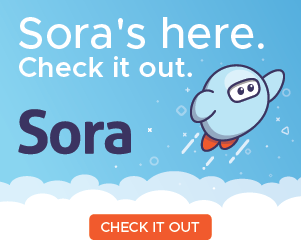 Introducing the 2019-2020 Battle of the Books list:
Elementary List:
Aru Shah and the End of Time (Adventure, Fantasy, Humor)  Chokshi, Roshani 

Cardboard Kingdom (Graphic Novel) Sell, Chad ​

Dactyl Hill Squad (Adventure, Fantasy)  Older, Daniel Jose ​

Front Desk (Realistic Fiction)  Yang, Kelly ​

Game Changers: The Story of Venus and Serena Williams (Nonfiction) Cline-Ransome, Lesa ​

Insignificant Events in the Life of a Cactus (Mystery, Realistic Fiction)  Bowling, Dusti ​

Knights vs. Dinosaurs (Fantasy, Humor) Phelan, Matt ​

The Mad Wolf's Daughter (Historical Fiction)  Magras, Diane ​

Miscalculations Of Lightning Girl (Realistic Fiction) McAnulty, Stacy ​

The Night Diary (Historical Fiction)  Hiranandani, Veera ​

Otis and Will Discover the Deep: The Record-Setting Dive of the Bathysphere (Nonfiction) Rosenstock, Barb ​

Rebound (Sports Fiction)  Alexander, Kwame ​

Saving Winslow (Animal Fiction)  Creech, Sharon ​

Shadow Weaver (Fantasy) Connolly, MarcyKate ​

Small Spaces (Horror, Adventure) Arden, Katherine ​

Two Dogs in a Trench Coat Go To School (Humor)  Falatko, Julie ​

Watchdog (Science Fiction)  McIntosh, Will ​

When Angels Sing: the Story of Rock Legend Carlos Santana (Nonfiction) Mahin, Michael James ​

Wishtree (Fantasy)  Applegate, Katherine ​

You Go First (Realistic Fiction)  Kelly, Erin Entrada 
Nibley Park Library Resources:
 
Library Policies
Hours for Checking Books In and Out :
During the day with classroom teacher permission and library availability
During your class's Library/Media class (Gr K - 8)
After school until 3:10 pm
Item Allowance :
Gr K : One item, kept at school
Gr 1: One item 
Gr 2 – 5: Two items
Gr 6 – 8 : Three items